Workplace and culture
Take a look at some of the most common barriers to effectiveness in your organisation and you will find that it often starts with people.  It is widely agreed that people are the greatest asset of any organisation.  It is your people that deliver, innovate, create, inspire and move things forward.  Yet we also know that people are the sources of conflict, blocks, barriers and misunderstandings.
How much more effective would your team be if people just got along and put their time, energy and focus on results?
Everything DiSC Workplace
A powerful and insightful report that provides you with a personalised view of your skills and strengths in the workplace.  The reports gives you insights about how you relate to others and what your barriers to working effectively are, and most importantly, it gives you specific and personalised tools to overcome them.
Following an online self assessment, an individual report is created, which becomes a personal development tool, with goals and actions to increase your effectiveness.
---
Take a look at the content here.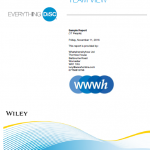 Uses for Workplace
Personal Development
Coaching
Team Development
Recruitment
Communication
Motivation
Relationship building
Conflict Management
Team Development
Underpinned with Everything DiSC workplace, we take your teams through an engaging and energising team building workshop.  We adapt the workshops to focus on your key objectives, and help your teams to connect, understand and build strong working relationships, and to overcome barriers to which impact results.
Each member of the team completes a profile report and we then take them on a journey of self discovery and discovering the strengths and styles of their colleagues.  We create a safe space, using trust and coaching style facilitation, so that team members create a new level of understanding and respect for each other.
Whatever the focus of the workshop, we feel the shift in energy form misunderstanding to understanding, from judgement to curiosity, from closed minds to open.  The impact of our workshops ripple out into the workplace, and creates a common language that focus' on behaviours and results.
Coaching
We use DiSC profiles when coaching as a tool in self and professional development.  Since clients assess themselves, it is a great place to start coaching on gaps, strengths and weaknesses.    Whether coaching is a stand alone programme, or as used in conjunction with team development, we always find the DiSC workplace is a great foundation tool.
Other DiSC reports maybe recommended to clients depending on their roles.  Everything DiSC produces reports for leaders, manager and sales team also.
Recruitment
We help clients in recruiting talent that will enhance the team.  Therefore, understanding your team and group culture, will help you to identify what styles may enhance or detract from team performance.  That's why we support you in your recruitment from supplying profile assessments to candidates to complete, to creating interview questions, and providing feedback.  We can help in interviews too if that helps you find the right candidate for your business.
Contact us to discuss Everything DiSC workplace and we can find the right solution for you.
Contact Us