Trelleborg
"The best training I have ever been on or invested in"
Following a restructure and new MD appointment, we started focusing on fixing immediate problems.  Then we moved to organisational development and how to lead and manage for growth and performance.  3WH were recommended and although we approached a number of suppliers, it was their warm, honest and partnering approach that clinched the deal.  Initially the senior leadership team spent two powerful days offsite understanding teamwork using the five behaviours of a cohesive team model.  This created a step change in how we work together and focus on results.  Then we started a 9 month programme to help our managers to lead effectively.  We are so impressed with the results that we have become a case study for the sider group.
Hewett Recruitment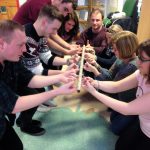 We approached 3WH to run 2 workshops for 22 employees.  Lucy took time to understand our employees roles and tailored the course content to suit our business, making it relevant for each person.  Her personable and informal style put everyone at ease and she quickly created an atmosphere where people were comfortable talking openly and sharing thoughts.  12 months on, the training has been truly embedded and is cited as the best and most relevant training received.  Hewett Recruitment.
3WH is our go-to partner for anything relating to developing our teams on a personal level. As a business we like to focus on how we do things, not just what we do – so once our employees have the technical job-based training they need, 3WH can deliver the added-value that helps really differentiate our people. We regularly work with 3WH for team-building sessions (DISC workshops, Lencioni 5 Behaviours), as well as 121 coaching for individual employees – helping with personal development within the business, or life-coaching for individuals who need a little more holistic support –  3WH does it all!
The great thing is that they are so flexible in their approach – what they offers isn't in any way "off the shelf". Lucy (Director) has really taken the time to get to know our business and the individuals within it and genuinely adds value. We frequently pick up the phone to Lucy to run an idea by her as she can often offer a new perspective. I would genuinely recommend 3WH as a valuable partner for people development. The value of the sessions with 3WH was brilliant  their business background meant that they quickly understood the situations I spoke about and they were  able to help me think about them in a different way.
3WH have a real strength for taking a step back and viewing a situation from a more holistic , 'helicopter' perspective – which is very effective in breaking down and tackling challenges. By the end of each session, I had made a list of tangible actions that I could go and implement to make me more effective in my role.  Laura Hewett  Company Director
Kingswood
We started working with Kingswood in 2016, first working with their Sales and Management senior team, followed by the sales managers, L&D professionals and the Operations Management teams.  We have continued to offer consultancy on people and cultural development and providing coaching to managers and leaders.
Read what Kingswood say

Case Study 5 Behaviours

"We had a really fantastic two days! Thoroughly recommend 3WH to any team.  Real focus, time to reflect and create a cohesive, collaborative team plan.  By the way, every team needs a beanbag moment"

 

Five Behaviours Case Study
Hereford and Worcester Chamber of Commerce
We started working with the chamber in 2016.  Initially we commenced coaching programmes for senior leaders and then helped the management team to become a functioning team through using everything DiSC.  We continue to work with the Chamber which demonstrates our approach to long term partnering.
Read their blog here to hear their thoughts on our programmes.
Read a coaching testimonial Executive Coaching Testimonial.
Innogy & Npower
I invited 3WH to come and join the team on a key strategic project of designing new structures around our performance culture linking this through a the customer lens, engaging people at all levels. I was really impressed with the drive and thinking outside the box that 3WH brought to the project taking the lead on the strategic theme and operational delivery. The project then morphed into bigger piece of work looking at implementing a digital experiences around 'standing up for our customers' which 3WH designed and implemented with our Brand colleagues and went across the UK sites. 3WH have really strong influencing and relationship skills which allowed this to be delivered in a short period of time with maximum impact. I will definitely use 3WH again where I need a key project implemented with a balance of impact and time as they delivered over and above what we needed.
I took away a great deal from Lucy's coaching within the structured PRIDE environment within npower (something Lucy created from the ground upwards).
The level of exploration achieved on a personal and professional level clearly demonstrated to me the passion that Lucy had for developing, mentoring & coaching people, and the carefully crafted structure in which we did this showed me a range of opportunities for the business (one of which I have since been able to take) and also identified for the business those people who were prepared to achieve under the title of PRIDE – Personal Responsibility In Developing Excellence. Npower
Executive Coaching
Lucy has been an exceptional coach and mentor over the last 12 month.  Lucy's experience, drive and engaging personality has helped shape her to become the "go to" professional where personal, career development and business transformation is concerned.  Lucy really took the time to understand who I was, what was important to me and what my aspirations and goals were.  She was quick to connect with me and helped me to develop my own leadership skills which have allowed me to become more effective, increase personal performance and develop a clearer insight to my career development.  George PWC
Lucy is a reassuring yet provocative coach.  She offered silent support and held a beautiful space for me to explore – Lucy Faulks – Company Director
Lucy has been my coach now for a little over 6 months, and in that short time she has helped me through various stages of setting up a new business and the challenges that come with it.  I can't recommend 3WH highly enough, truly inspiring, supportive, intuitive, giving me the tools to handle any situation and the confidence to trust my instincts.  Quite literally every aspect of my life has improved since working with 3WH.  Tom Ludwig, MD Solar Sentry
 I am so grateful to Lucy for changing my attitude into the positive person I am today. You have mended my marriage, grown my business through your coaching I am proud of myself for the first time in my life. Thank you does not come close xxx. Company Director
I would have no hesitation in recommending 3WH for coaching. The questions my coach asked me, along with their natural empathy and intuition meant that they got to understand me really quickly! I soon felt like I had known my coach for years and could trust them enough to have a very open discussion. Louise Tennekoon
In a single session Lucy helped me discover my values and I had a true light bulb moment.  This single moment has given me meaning and direction.  We continue to work together on both personal and professional development/   Dan P Operations Director
I would recommend 3WH to anyone looking for Coaching on and individual level or professional, or those looking to engage with a coach for a full structured development plan for teams. Alan W
A series of coaching sessions with 3WH has made a massive impact in the workplace and home life.  Coaching has been very worthwhile, made such a difference and improved my wellbeing and coping strategies when things get crazy.  Marketing Manager Enphase
Today I'm grateful for my coach Lucy Barkas – she has been a real inspiration, kept me focused and committed to making my dreams a reality.  Coaching has ignited a new awakening within me, reminding me of what being truly authentic means.  I am also enjoying a deeper level of peace, happiness and inner love.  Thank you Lucy for keeping me accountable and consistently improving – Marylin